Jet Luxury @ The Tara Del Sol Belize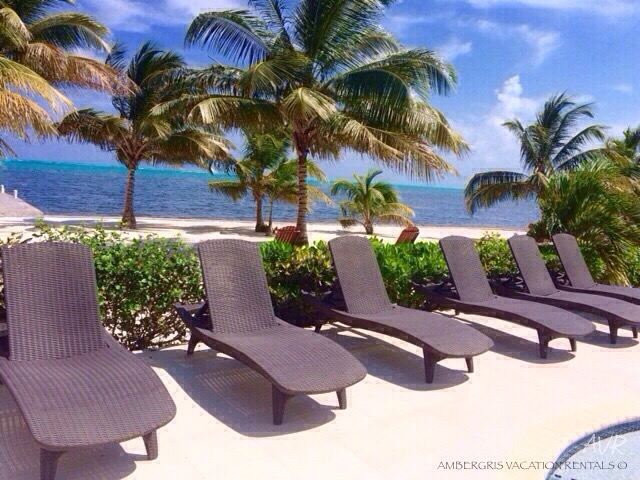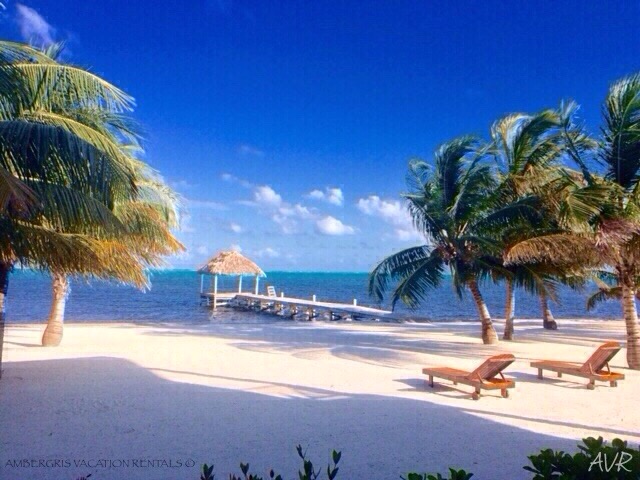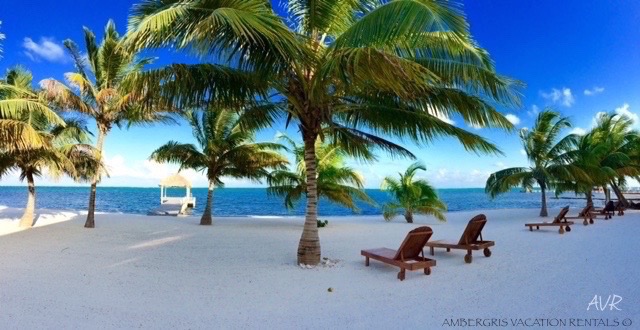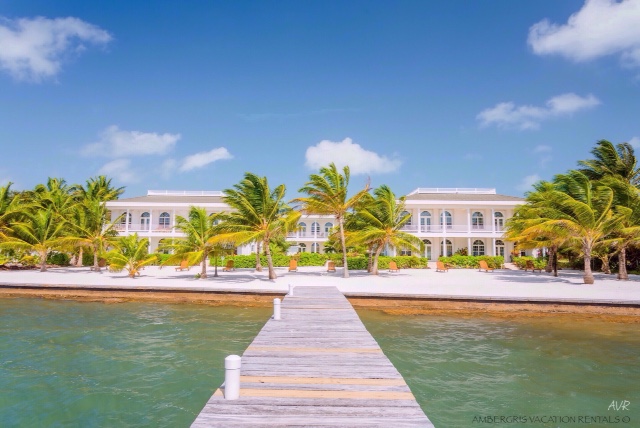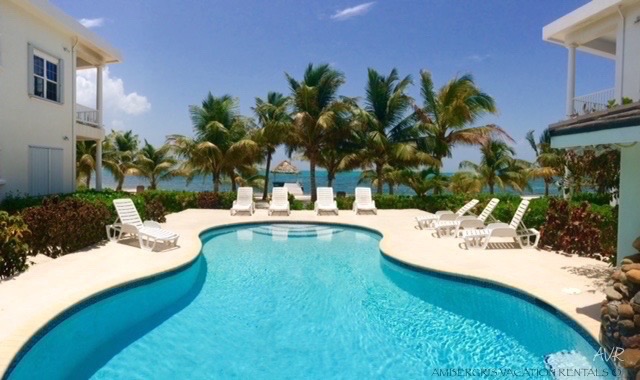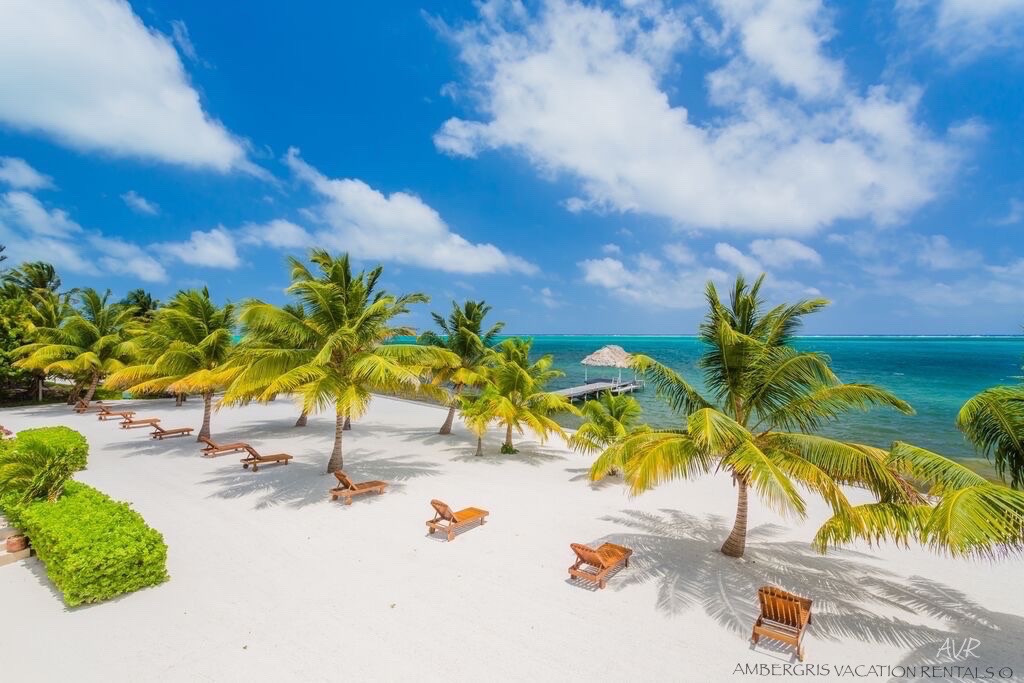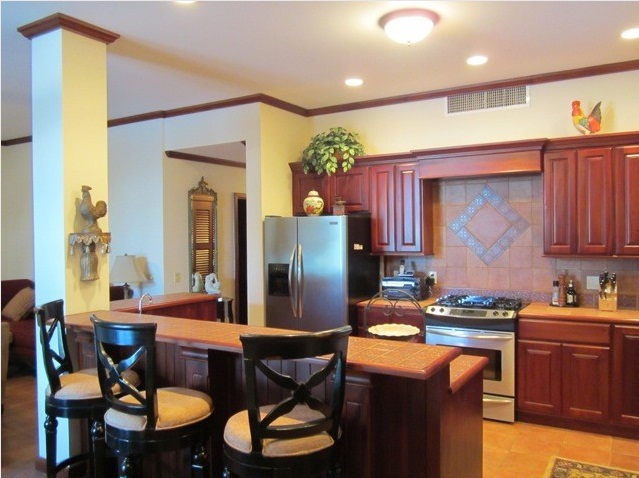 Sitting on your balcony or ground floor patio area enjoying the oceanfront view, palm trees on the beach, and warm sun against your skin. Now that sounds like a tropical vacation in Belize! Tara Del Sol is an upscale 10 unit complex offering beautiful 2 and 3 bedroom units, all with 2 bathrooms and balconies or ground floor patios with gorgeous oceanfront views. There is plenty of beachfront for you to enjoy from your lounge chair, our private dock to go swimming in the warm ocean, or the pool if you want to cool off and just relax. This complex is located a convenient 10-15 min golf cart ride south of the Sand Pedro airport. Please note there are no cars on the island except for taxi cabs and local companies. We highly recommend that all of our guest rent a golf cart during their time on the island. The great thing is, you are just a short distance to restaurants and all the activity of the heart of San Pedro, but far enough away to have complete quiet and privacy at your resort condo.
Our local property managers can arrange everything from flights to and from Belize City Airport to the San Pedro Island Airport on Tropic Air which is a 13-15 minute flight. In addition, they will see that you are picked up from the airport and brought to the condo and will check you in and give you a personal tour and answer any question you may have while staying at the property. Once you have secured your reservation our local property managers will reach out to you by phone and email to introduce themselves and will send you a list of items that they can supply for you prior to your arrival. Once you have decided on doing they will arrange for everything to be done for you so you can arrive and enjoy your time at this unique boutique property.
You can choose between a 2 or 3 bedroom unit. Here is what you will enjoy-
2 bathrooms

In suite laundry in most units (please confirm when booking) – pack light if you wish

FREE WIFI – send pictures to your jealous friends and family back home

Upscale finishing and furnishings – don't have to worry about roughing it here

Fully equipped kitchen – you can make a snack or prepare full meals

Central Air Conditioning – enjoy the warm sun, then cool off in your private unit

King Beds to Queen Beds to Full Beds to Twin Beds – sleeping arrangements available to suit every group

Large Oceanfront Balconies and Ground Floor Patios – enjoy amazing views of the ocean and reef

Great Location – close enough to the action if you want, yet peace and quiet if you so desire
Remember, when you book in this first class complex you can also talk to our local property managers about booking tours, transportation, water activities….pretty much whatever you want, they can arrange for you!!
Jet Luxury Resorts is not associated with, sponsored by, or endorsed by any of the branded hotel properties or its affiliates as operator of the hotels and as owners of the hotels or resort properties for which Jet Luxury Resorts offers on their website. Any Rental activity through Jet Luxury Resorts are conducted independent of such parties and the hotel's operation.
Two Bedroom Condos
UNIT #A1
Open your door to 1800 sq. feet of living space all to yourself! Step out onto your private, quiet beach and sink your toes in the sand. Or enjoy the covered porch. On the quiet end of town our complex is tranquil and safe and never crowded. Complete with a swimming pool and attentive management team. Stainless steel appliances, open living area and access to washer and dryer in the unit. Comfy king master suite, large bathroom and closet helps you spread out and be comfy. 2nd bedroom also with full bath.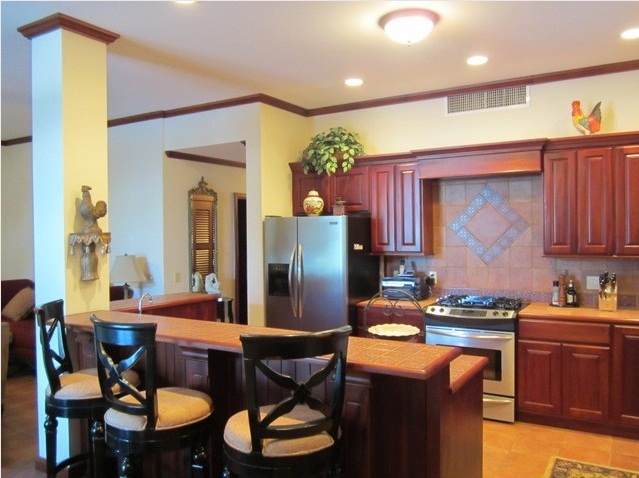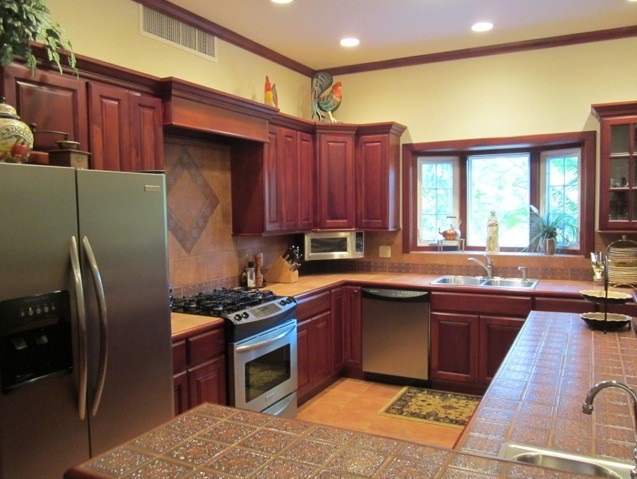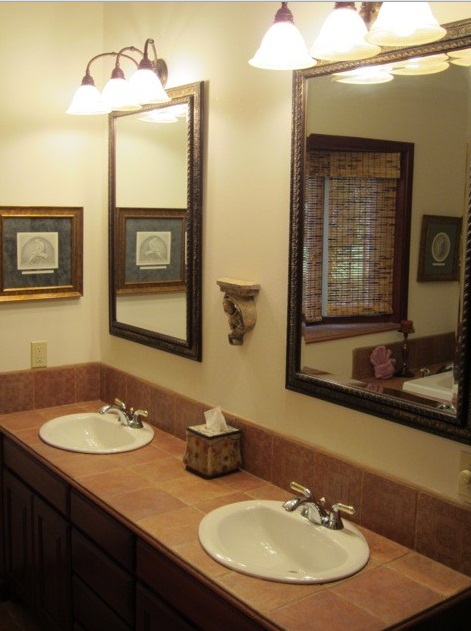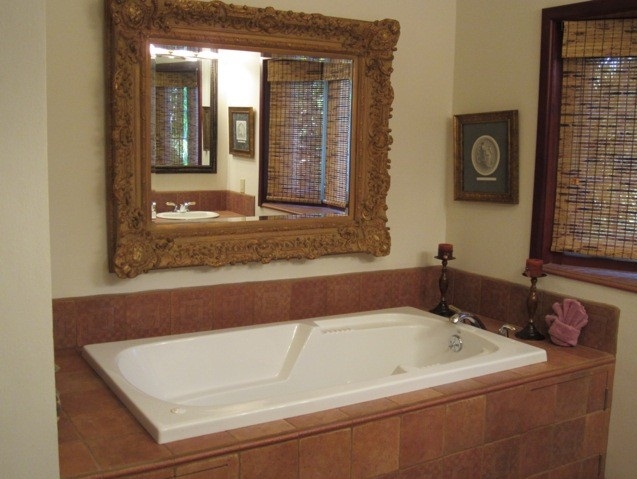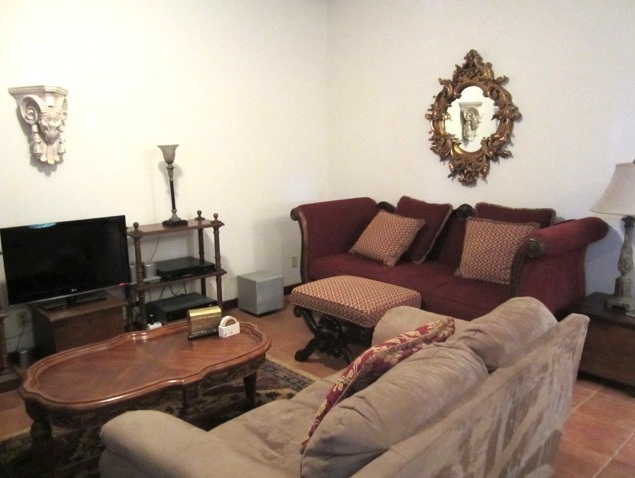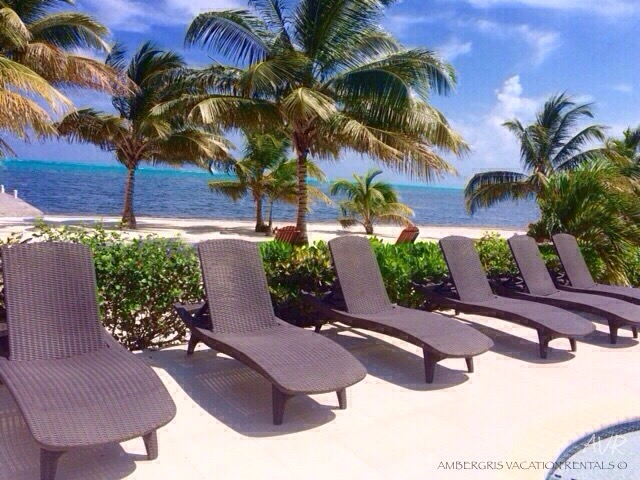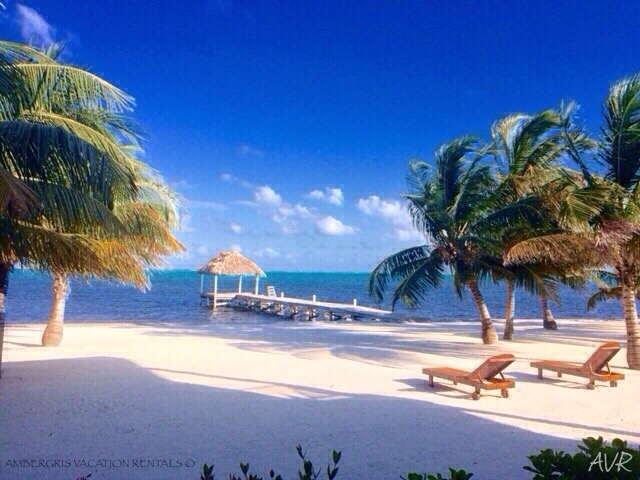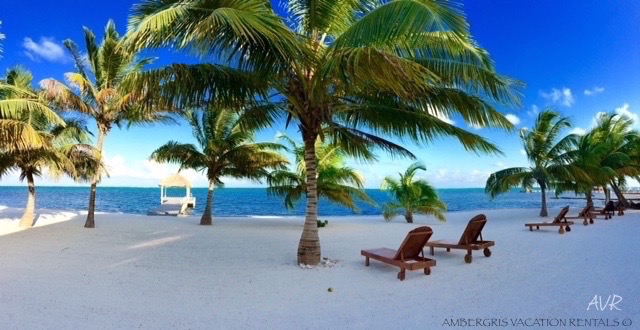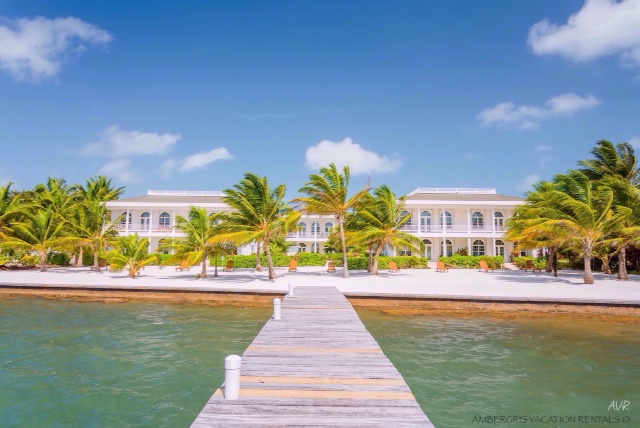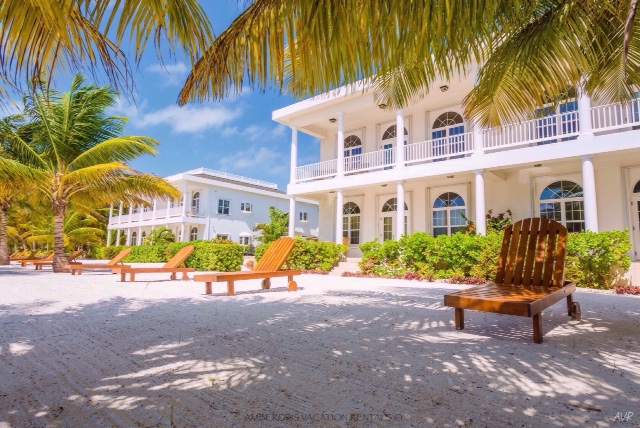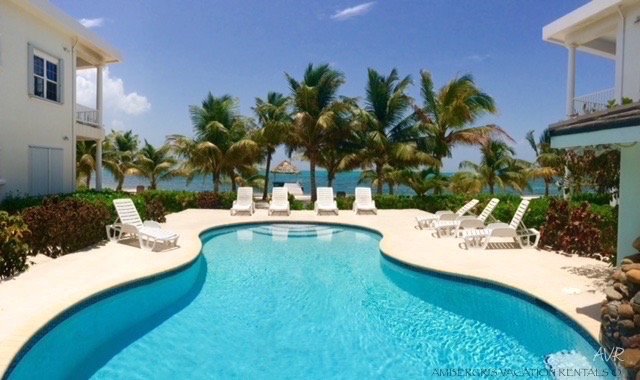 UNIT #B1
With its beach front and pool front private furnished veranda, this ground floor condo steps right onto the beach. Two bedroom, two bath, both bedrooms have King beds. There is a Queen Sleeper Sofa Bed in the living room too, there is a washer and dryer in this beautiful Island themed Condo. Beautifully decorated, lots of original island artwork.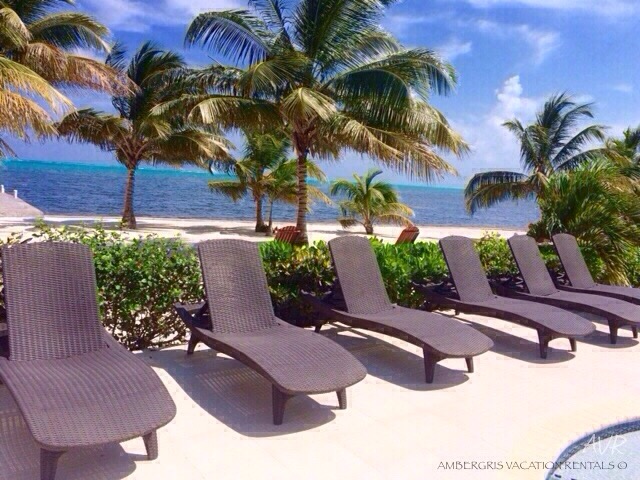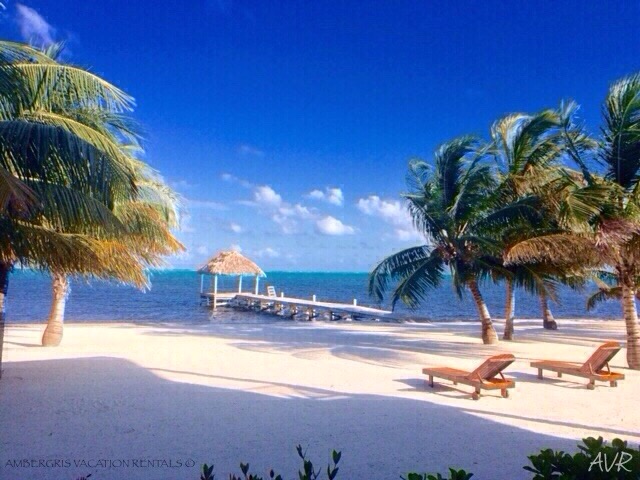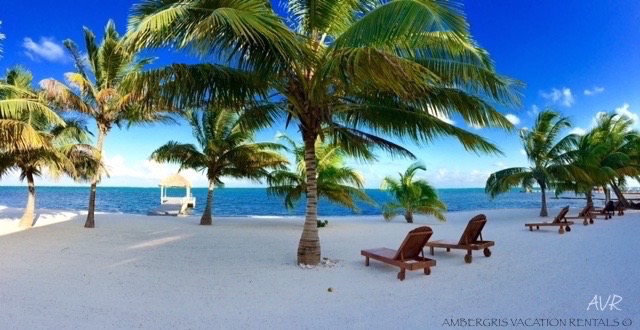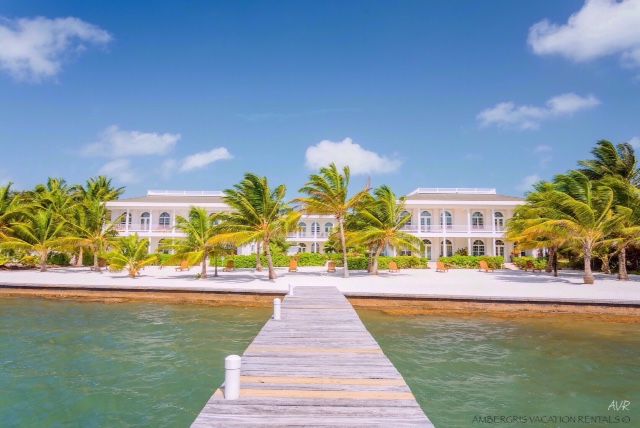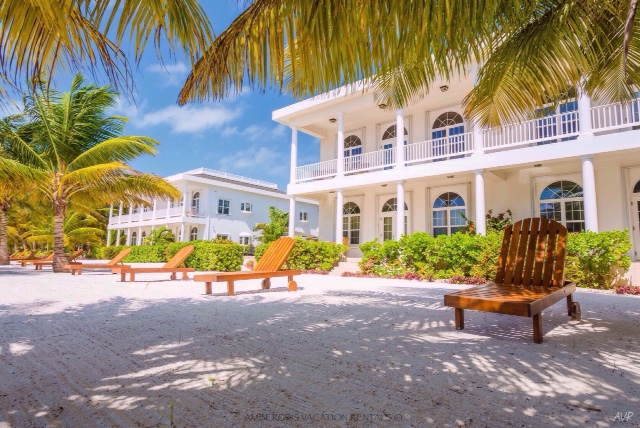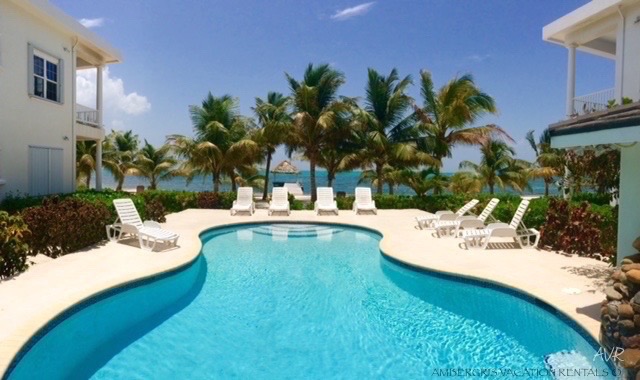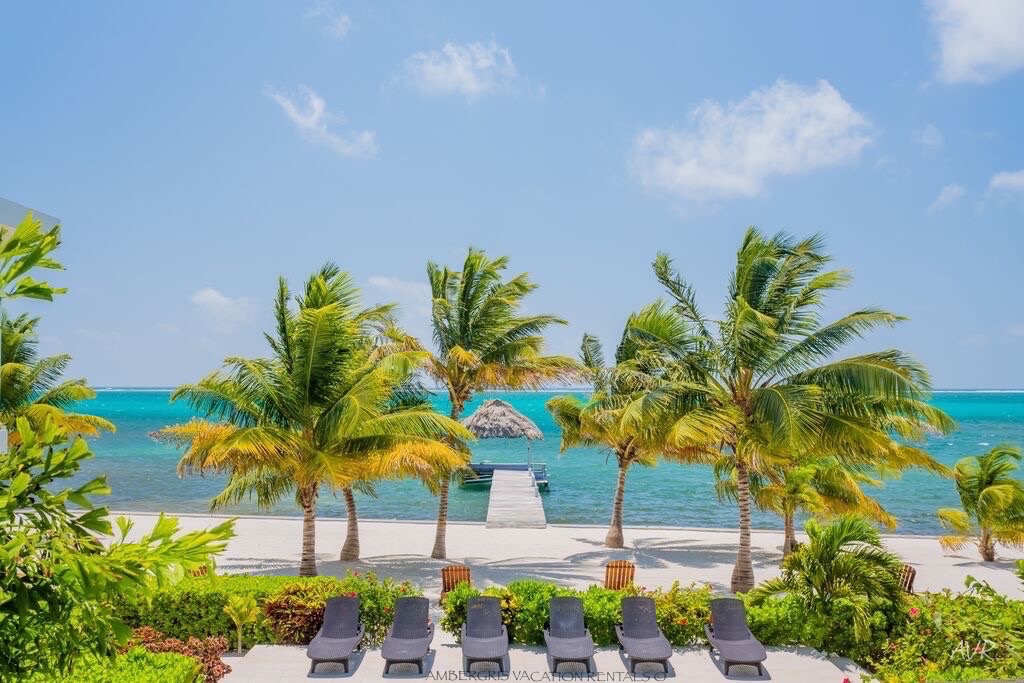 UNIT #C2
An upstairs unit, this three bedroom, two bath condo is beautifully furnished. With a king bed in the master bedroom, two twin beds and a queen in the second and third bedrooms, this condo is ideal for a family. The veranda offers a awesome view of the large beach, the Caribbean and the barrier reef just a 1/4 mile offshore. Out the back door are the stairs leading to the rooftop veranda for an unforgettable view of the island.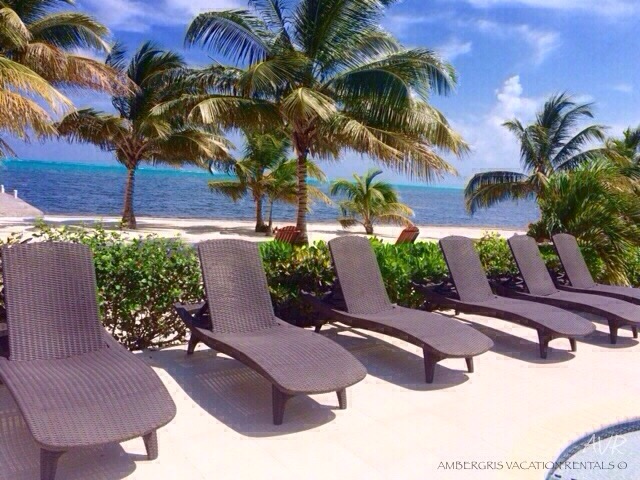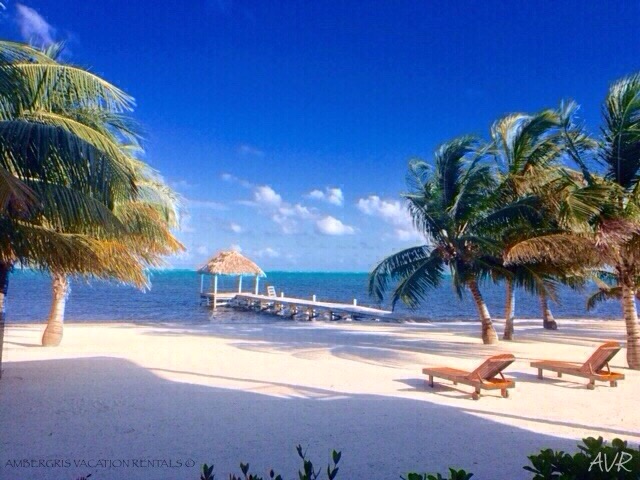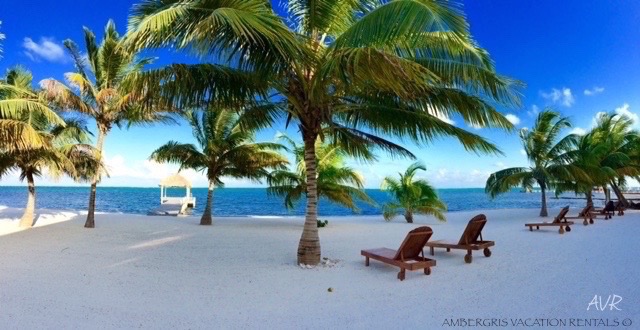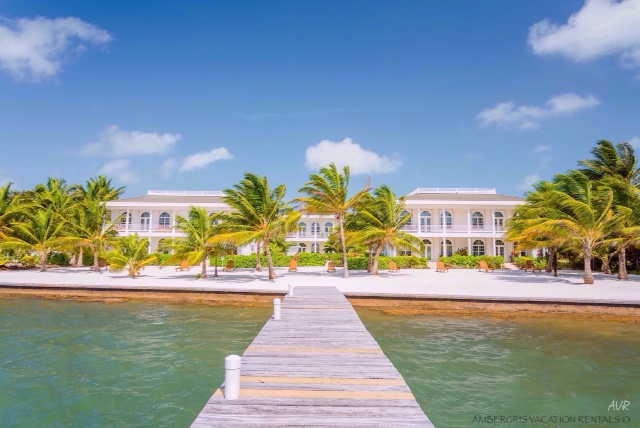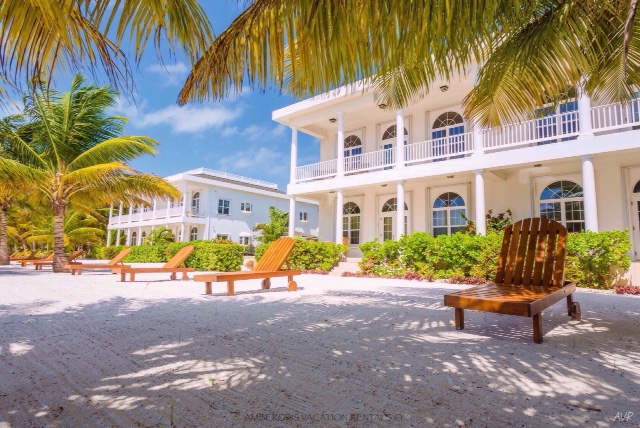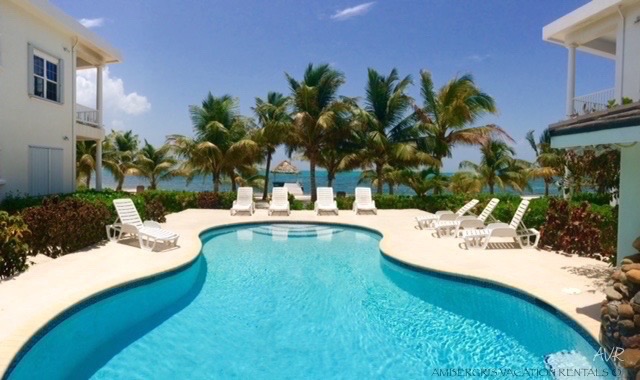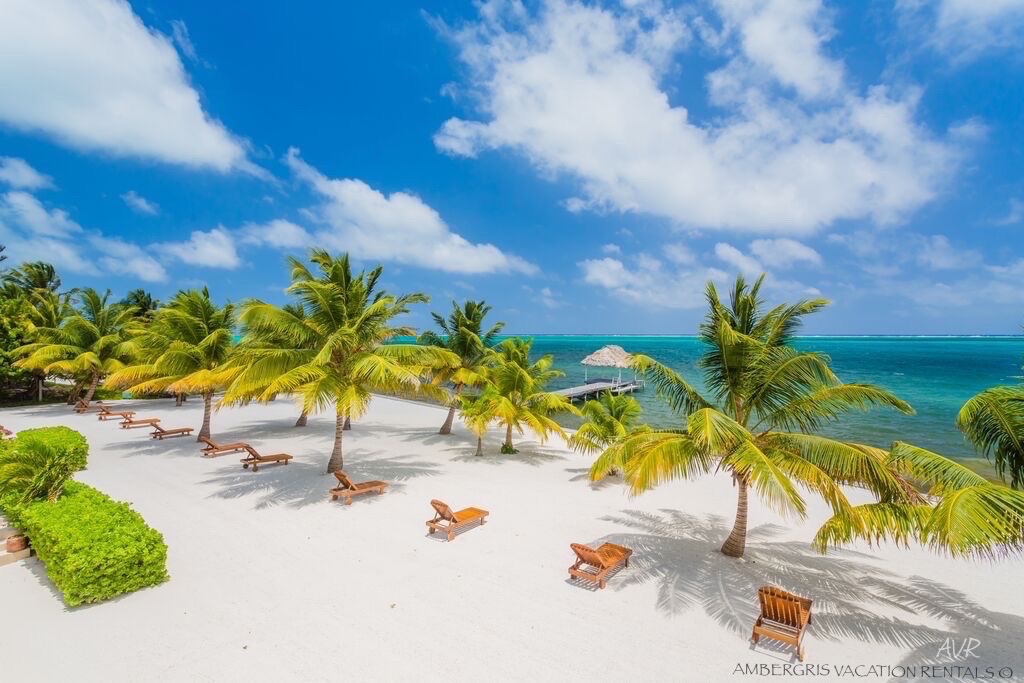 UNIT #C4
This three bedroom upstairs unit is a combination of delightful tropical colors and beautiful island style furnishings. There are two king beds and a double and twin in the third bedroom. The comfortable living room offers a large screen TV and entertainment center for your enjoyment. The large veranda with its spectacular view and cool tropical breeze is the perfect place for that first cup of coffee or just relaxing after a day of fun and sun. This condo is truly unique in every sense of the word.
ROOFTOP PATIOS
The roof of each of the Tara Del Sol building's boast expansive rooftop patios with expansive views.
Tara Del Sol-Belize Reviews:
My group of 4 girl friends stayed in unit B1 (bottom floor) and we were completely impressed with our space and the view we got to wake up to each morning. The condo was clean and well maintained. We had everything we needed - plenty of towels - bath, hand, wash & even beach, fully stocked kitchen with newer appliances, comfortable beds, couches, and chairs, and a patio that was wonderful for lounging on. Not to mention the pool just steps from patio. The management company arranged a taxi to pick us up and take us back to the water taxi dock upon arrival and departure in San Pedro. Eric was on site when we arrived to check us in and give us the lay of the land. He also helped us rent a golf cart and have it delivered from a reputable company they work with regularly. Eric was patient with my crew and even had us laughing through out our check in. Another rep from the management company came to send us off and check us out on our final day as well. The location of the condo is a short drive via golf cart from the bustling San Pedro "downtown." The roads are a little bumpy but you get used to it. It was convenient for us. Plus the view from the condo looking over the sparkling pool, blowing palm trees, well maintained dock, and glistening ocean was almost too much to handle! My group all would recommend this unit heartily! We loved our stay. Thank you so much! My group loved the place. It was better than we expected and the area was breathtaking to wake to each morning! Eric did a great job checking us in and keeping my group laughing.
Tara del Sol Belize Condo B1 Christina
Tara del Sol, condo C2 was the perfect spot for our girls trip! There were 4 of us, so the 3 bedroom 2 bath was needed. Tile floors, granite countertops, beautiful showers, stainless steel appliances, a stocked kitchen, cold AC...and the view from our balcony of the ocean with the white sand and palm trees - it was Paradise! There is a barrier at the water that keeps the sea grass from coming on shore, it was the cleanest beach we visited. We were greeted by Erik for check in, and handed a book with restaurant recommendations, info about San Pedro, contacts for a taxi (we didn't rent a golf cart). Our taxi driver George drove us where we wanted to go (town for $10 US). Erik booked our excursions, including rescheduling our snorkeling due to wind. They basically operate like a resort, anything you need is at your fingertips. Bottled water on the counter, coffee pot, blender, blow dryers, etc There is a newly opened outdoor cafe right around the corner, a small store for staples in a 10 minute wal (homemade tortillas). A few good restaurants in walking distance. We appreciated the privacy of the beach, although not private we were typically the only people there. The boat for our snorkel excursion picked us up at our own dock. There is a washer & dryer too! Beach chair cushions are in the laundry room (one thing we didn't notice for a few days). Upon check out, Erik returned to answer any questions and make sure we had what we needed for our journey home. I have visited Ambergris Caye twice, Tara del Sol is my preferred "resort", I can't wait to visit again."
Tara del Sol Belize Condo C2 Charissa
We were a group of 6 and loved this place! It had a beautiful view and great dock to jump off of and swim. They were super helpful with booking activities for us and were very accommodating with other requests!
Tara del Sol Belize Oceanfront 3BR Liliane
This home is amazing. Such a beautiful view. Large rooms and a great kitchen. Peaceful and quiet. Stay here!
From Austin, TX · November 2018 · Tara del Sol Belize Oceanfront 2BR Seth
"Tara del Sol was awesome! Everything was as advertised: clean, great location, and the best views. Communication with the property management company was great. They helped us book the most amazing snorkeling trip with a local guy. Our family had a great time and we can highly recommend Richard's condo. Thanks for a great stay! Everything was as advertised. The property management company was awesome! They helped us arrange for a golf cart and the most amazing snorkeling trip."
Yvonne
Jet Luxury Resorts is not associated with, sponsored by, or endorsed by any of the branded hotel properties or its affiliates as operator of the hotels and as owners of the hotels or resort properties for which Jet Luxury Resorts offers on their website. Any Rental activity through Jet Luxury Resorts are conducted independent of such parties and the hotel's operation.