Jet Luxury @ The Trump Waikiki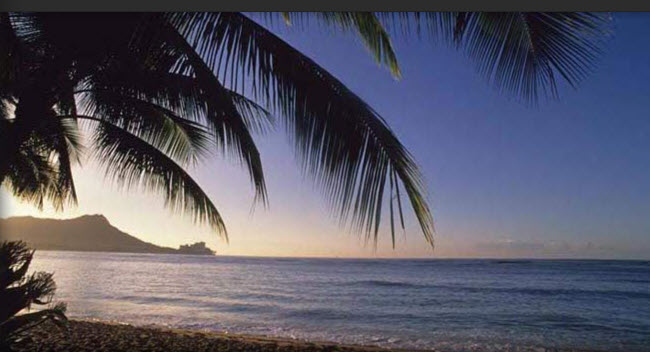 Jet Luxury Resorts guests receive the guaranteed best rate and elite access into exclusive inventory at The Trump Waikiki in Hawaii. All hotel amenities are provided with your reservation.
Jet Luxury @ The Trump Waikiki is one of the first ultra-luxury 5 star hotel properties on Waikiki Beach in Honolulu, Oahu.
Soaring thirty-eight stories high, this Waikiki beach hotel features 462 luxury suites boasting breathtaking views of the emerald waters of the Pacific Ocean from Fort De Russy Park, across Diamond Head and the Honolulu skyline finishing with a backdrop of the magnificent Ko'olau Mountains. Enjoy the gourmet dining and world-class shopping of the famed Waikiki Beach Walk located just outside your front door of the Trump Waikiki Hotel. Jet Luxury Resorts offers the units that they exclusively have in their inventory for nightly rentals.
Scroll down for room information.
STUDIO SUITES
MORE THAN A HOTEL ROOM. These smartly appointed Waikiki hotel rooms in Honolulu were thoughtfully designed for maximum comfort and enjoyment in Oahu's only Forbes Travel Guide Five-Star Hotel. Italian marble bathrooms with deep soaking tubs, floor-to-ceiling windows, 42" flat screen HDTV, a Sony radio with iPod docking stations and a DVD player are a few of the features of a Studio. Most of these Honolulu accommodations also have a pull out sofa bed and a fully-equipped kitchenette and all come with impeccable service that has garnered the hotel critical acclaim from our guests. Studios available offer city, partial ocean views and ocean views.
Premium Two Bedroom Plus Den Prime Ocean View Suite
Master bedroom with King bed or option for 2 Single beds, second bedroom with Queen bed, 2 Sofa Sleepers

Ocean View

1607 SQFT; 149 SQM
Enjoy absolutely luxurious living with this ocean view suite. Multi-generational families and friends traveling together will relish in the spaciousness and privacy. With a King bed or option for 2 Single beds, a Queen bed, and 2 sofa sleepers in the living room and den, this suite sleeps up to 8 guests. Two private lanais allow guests to take in stunning views of the Pacific Ocean.
ROOM FEATURES
1 King Bed in Master Bedroom

1 Queen Bed in Second Bedroom

300 thread count, 100% Egyptian cotton

Twice daily housekeeping service with complimentary bottled water during turndown

Lanai (balcony)

Floor-to-ceiling windows

Comforts of Trump bathrobes and slippers

In-suite Bosch Washer/Dryer

2 Sofa Pullouts in living room and den

Maximum Occupancy: 8

BATHROOM
Three (3) Spacious bathrooms with Italian marble five-fixture bath, deep soaking tub, and separate shower enclosure (shower only in bathrooms additional to Master)

The Spa at Trump® signature bath amenities

TECHNOLOGY
Complimentary Wireless Internet

42" flat panel HDTV with DVD player in Living Room, and additional 37" flat panel HDTV in each bedroom and den

Sony clock radio with iPod docking station


KITCHEN
Fully equipped kitchen with appliances by Wolf, Sub-Zero and Bosch with a complement of cookware and dinnerware

Wine chiller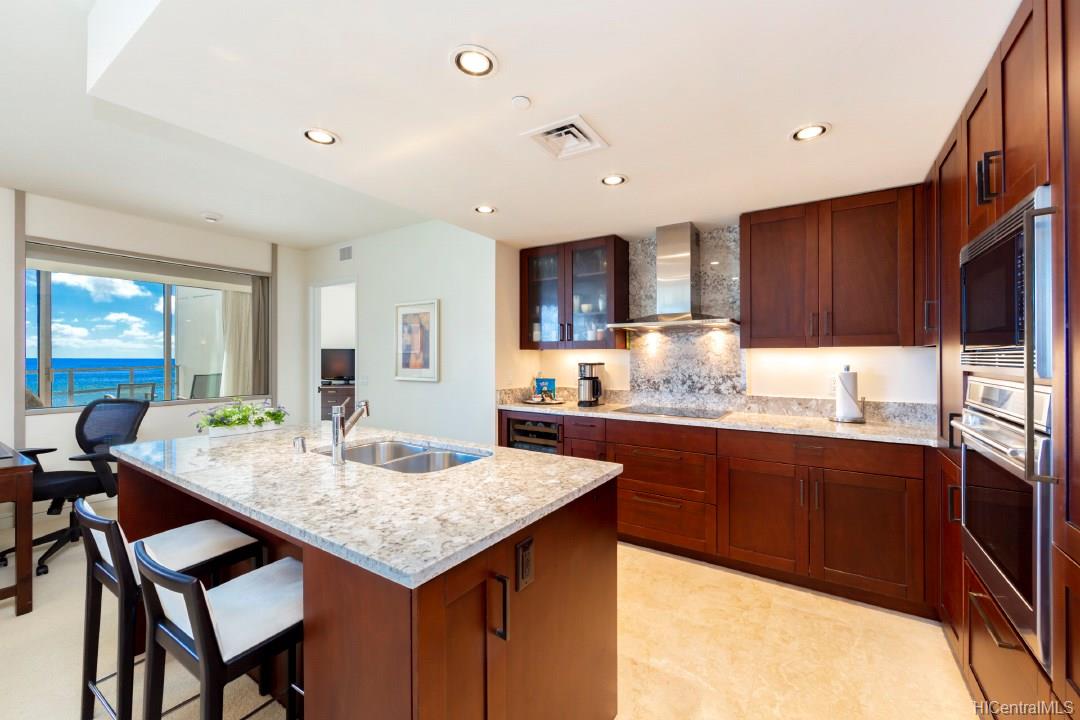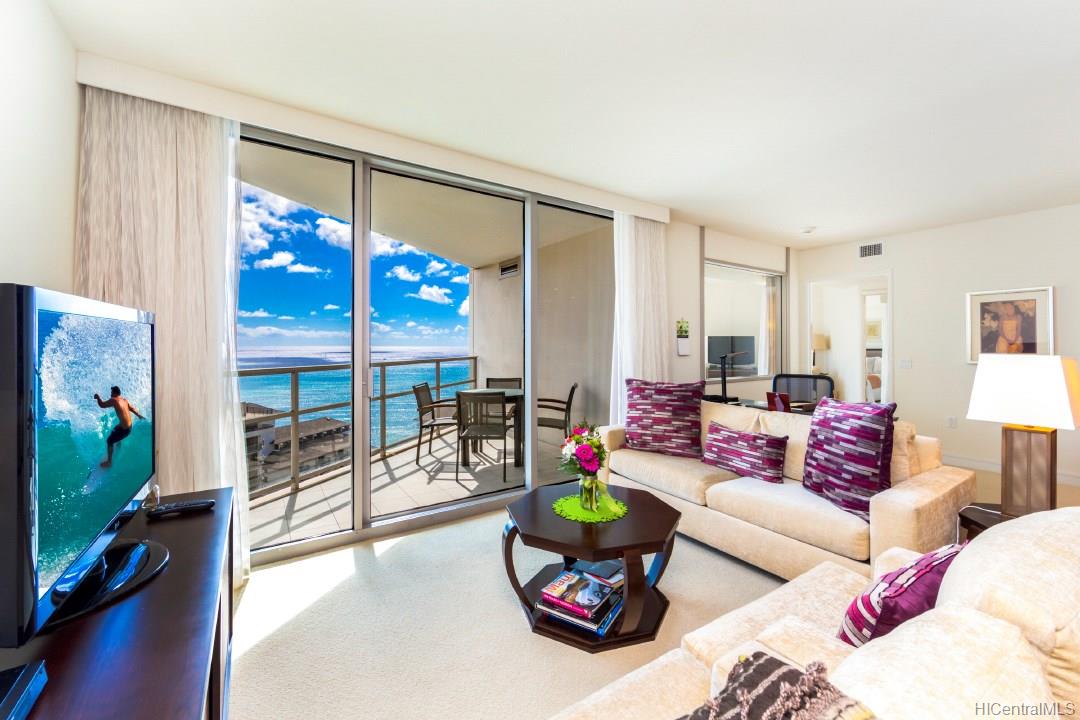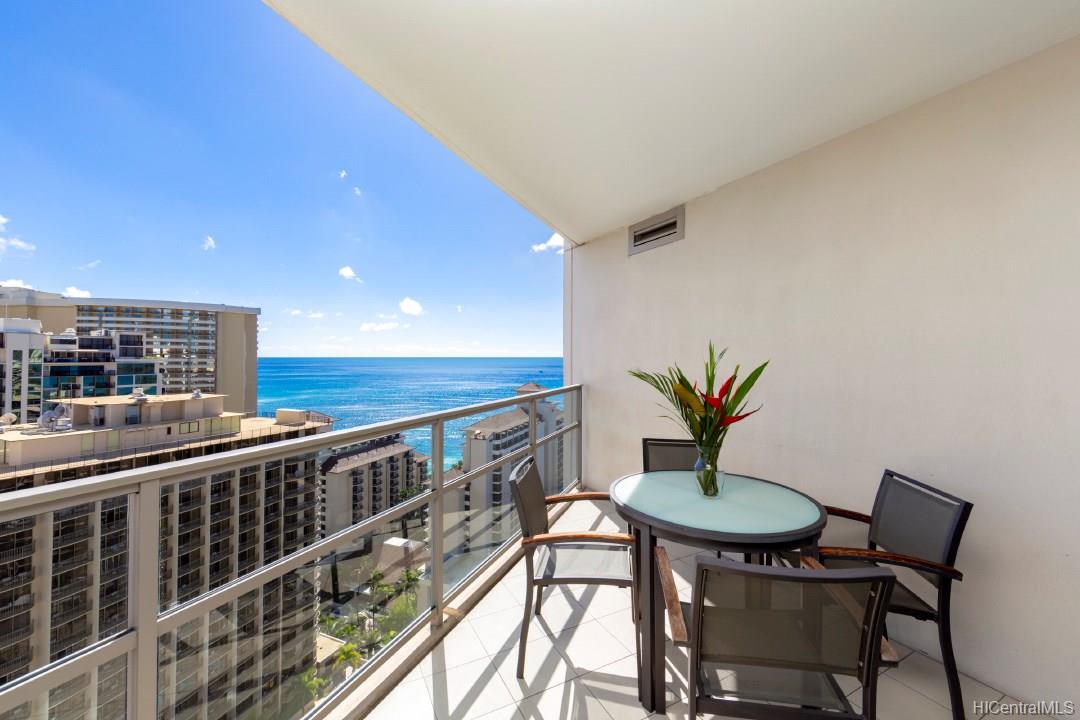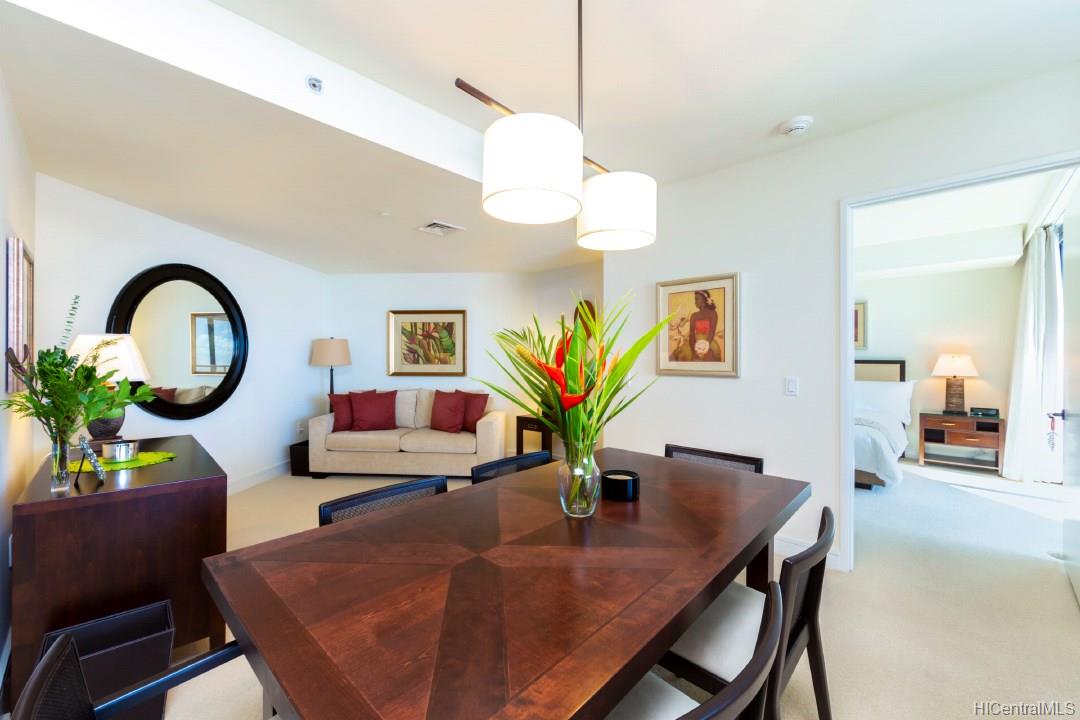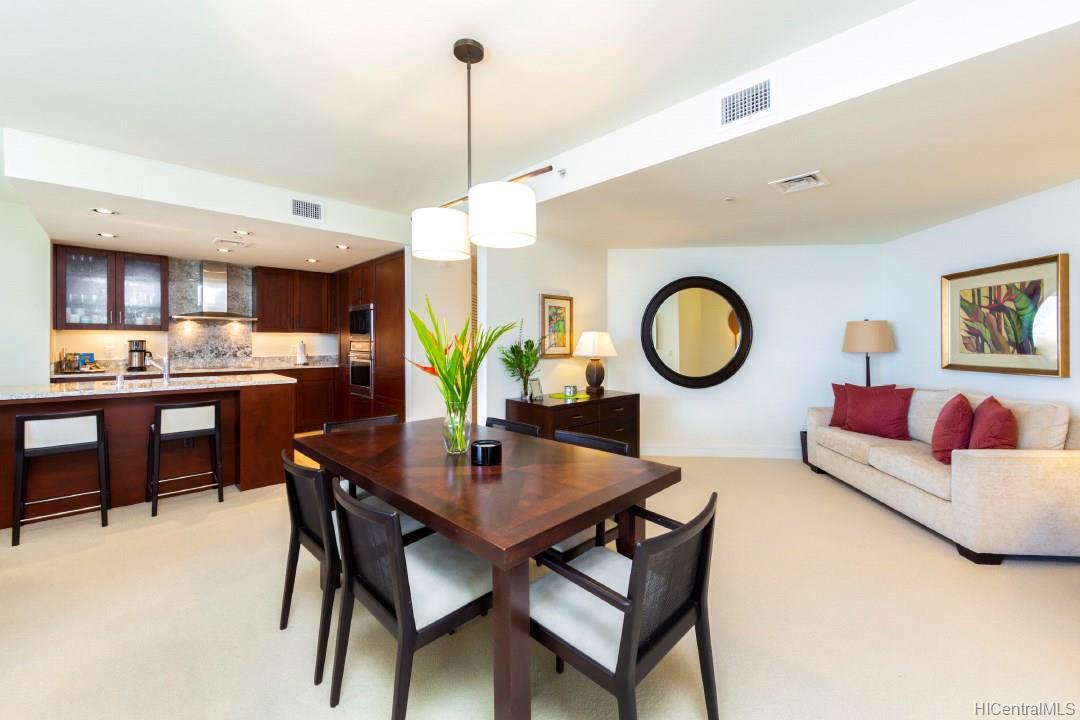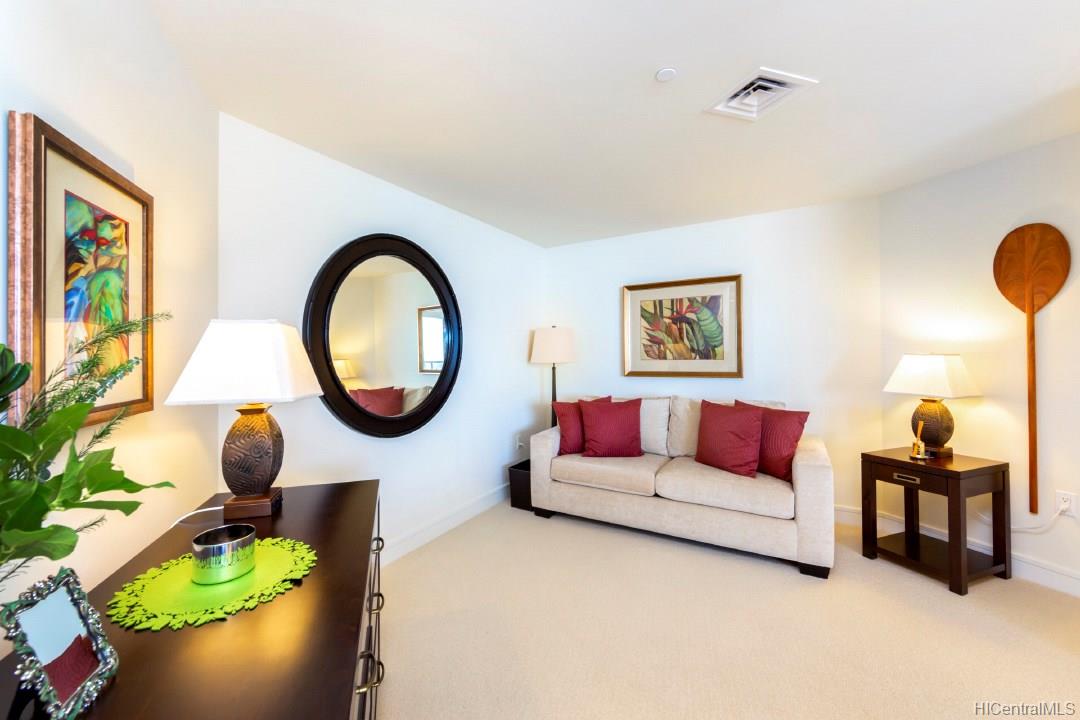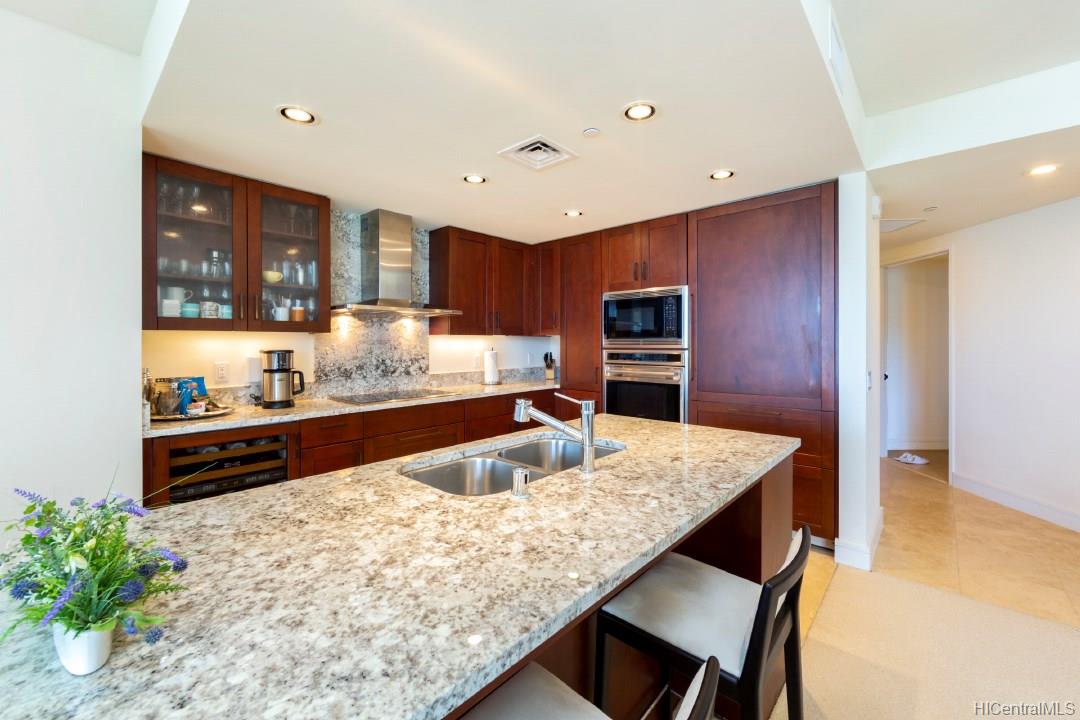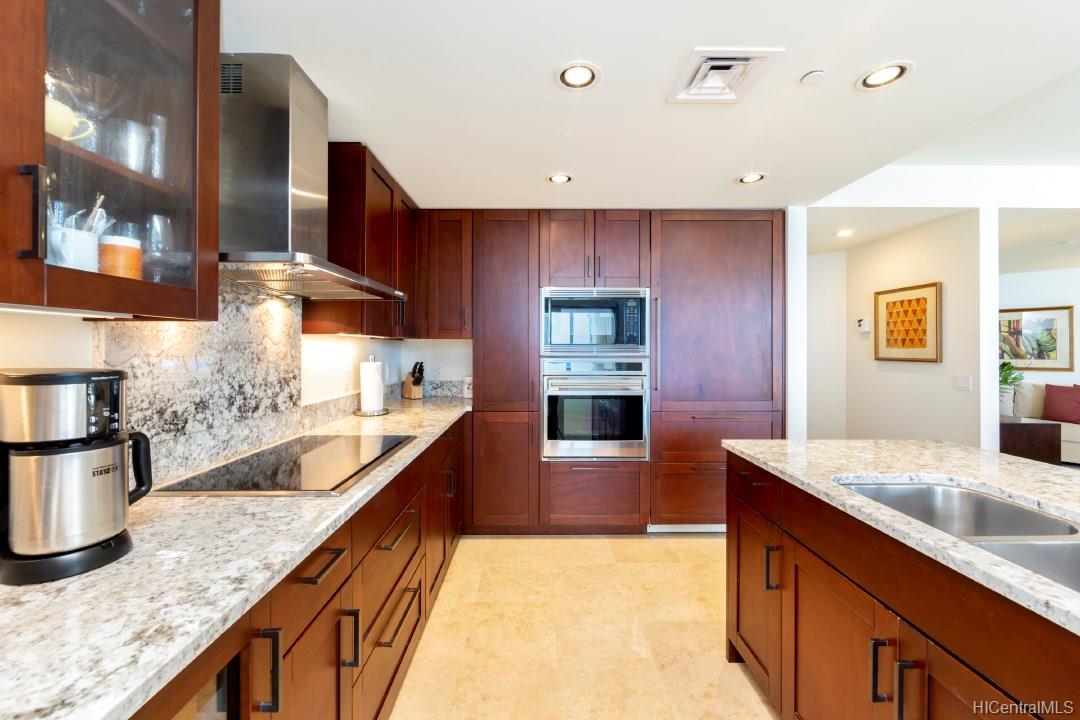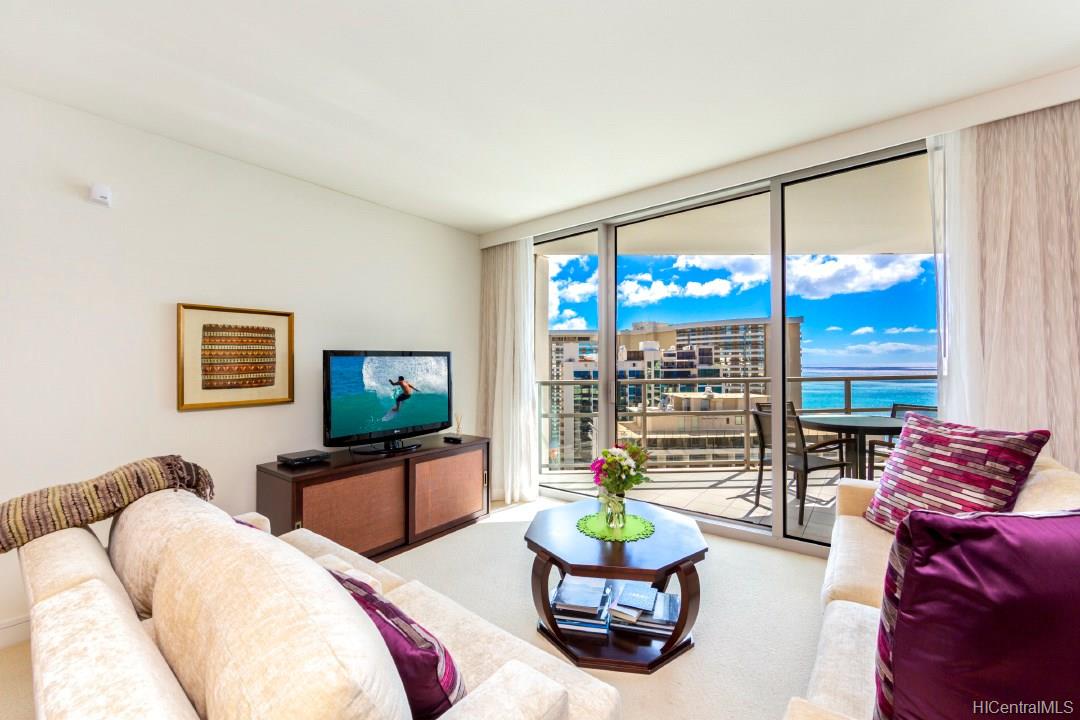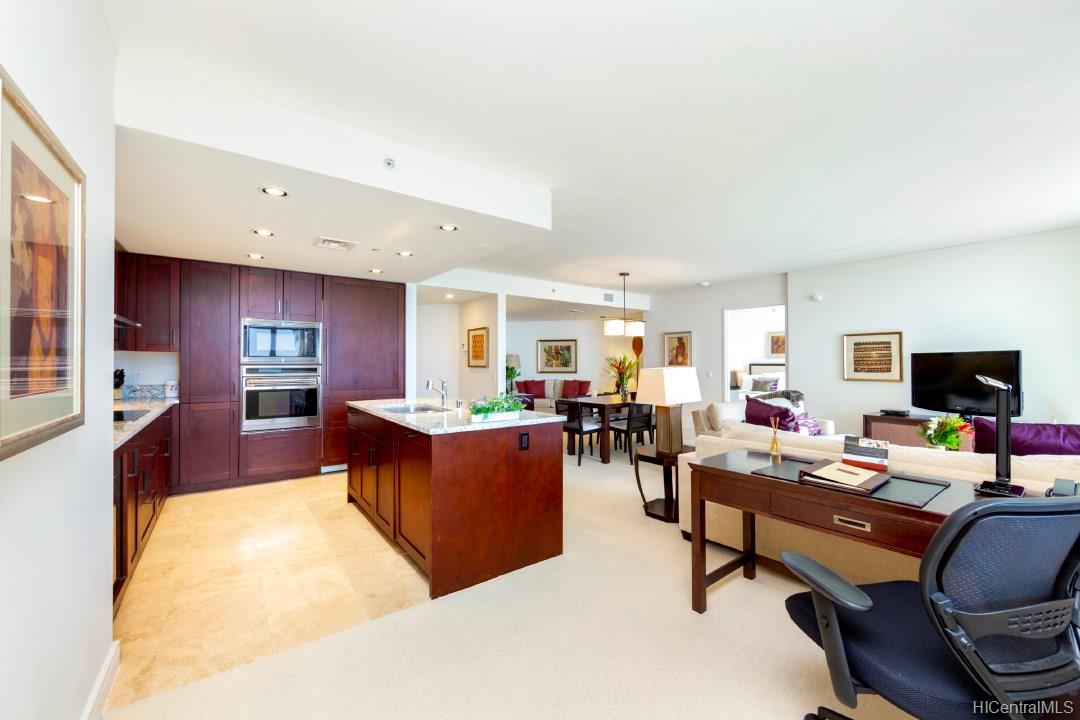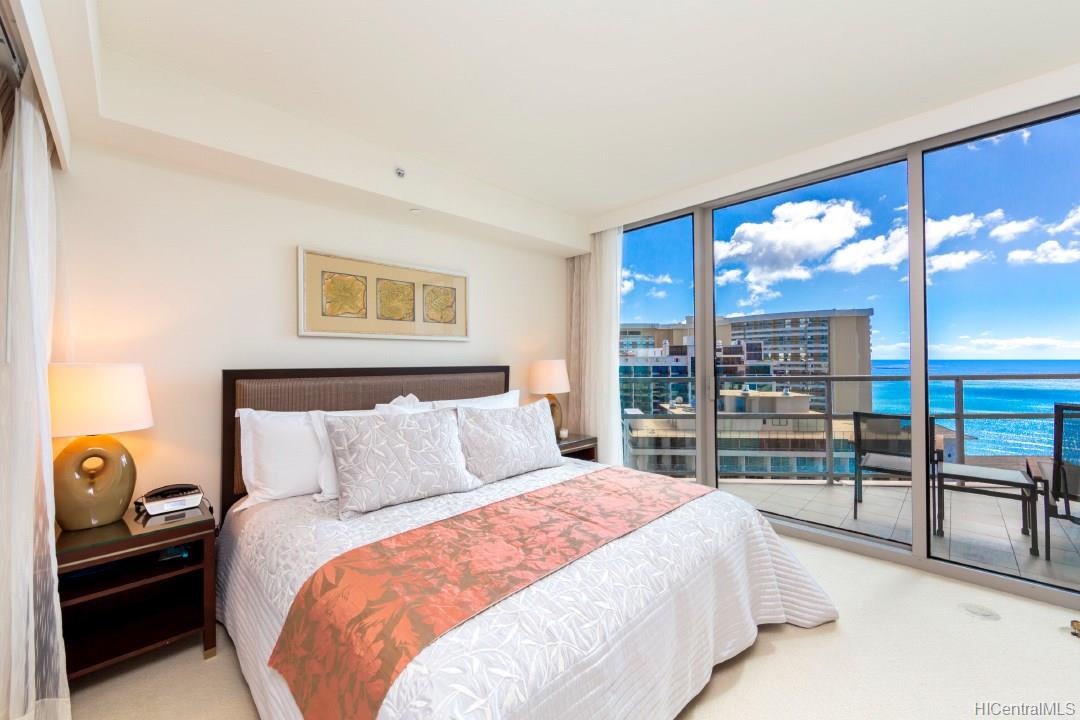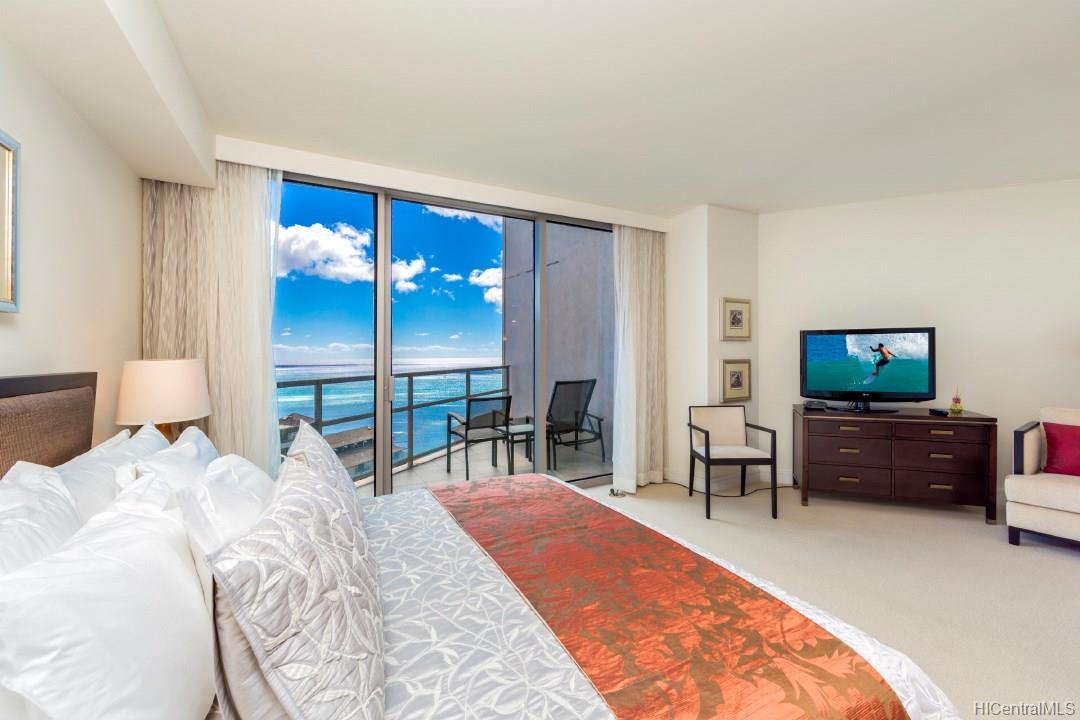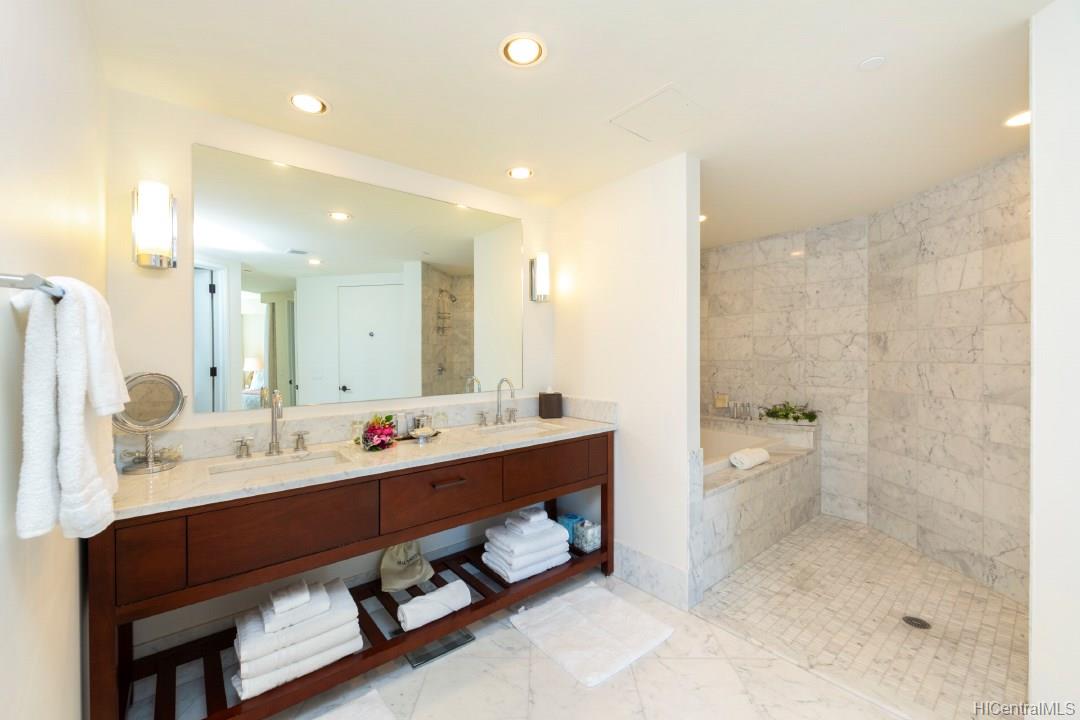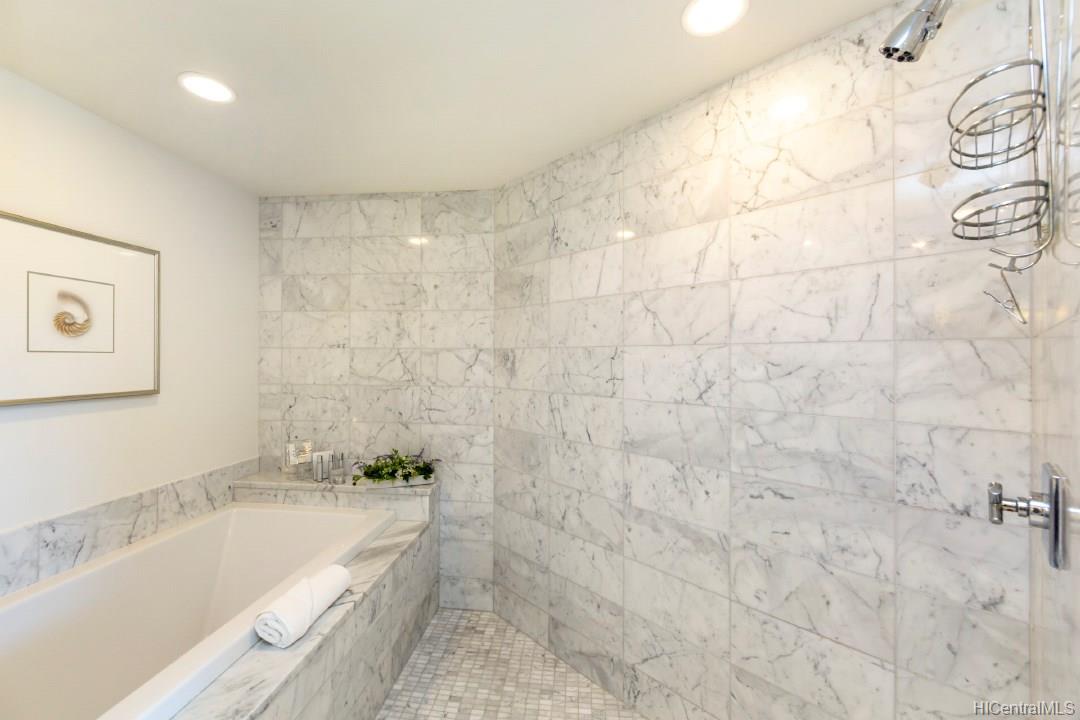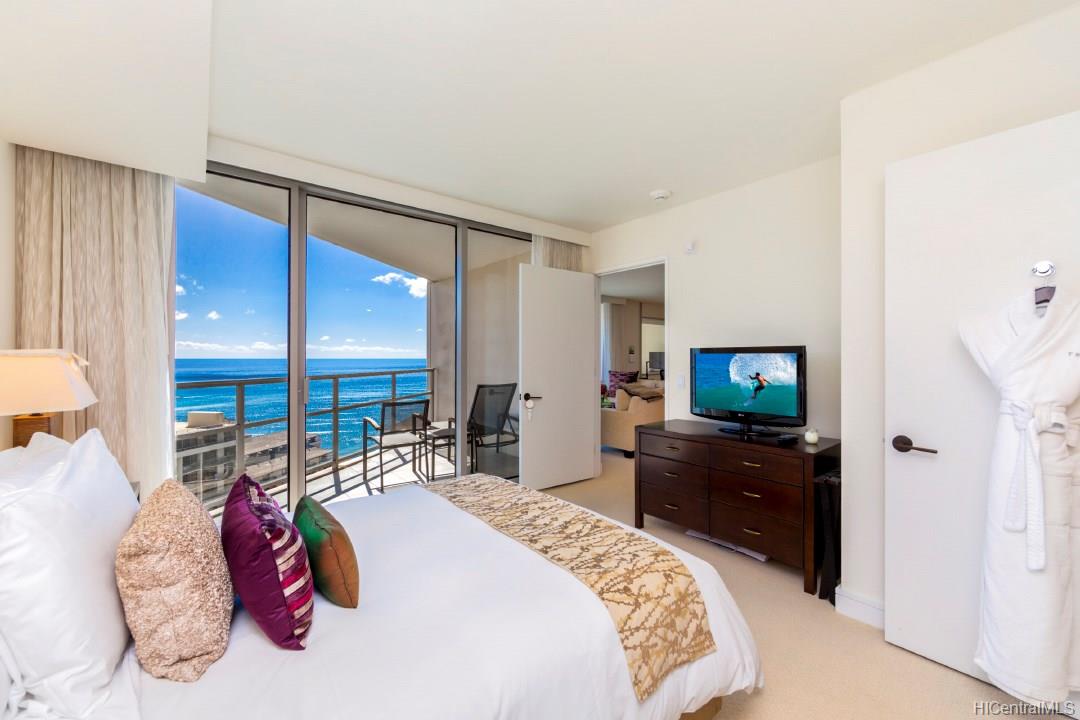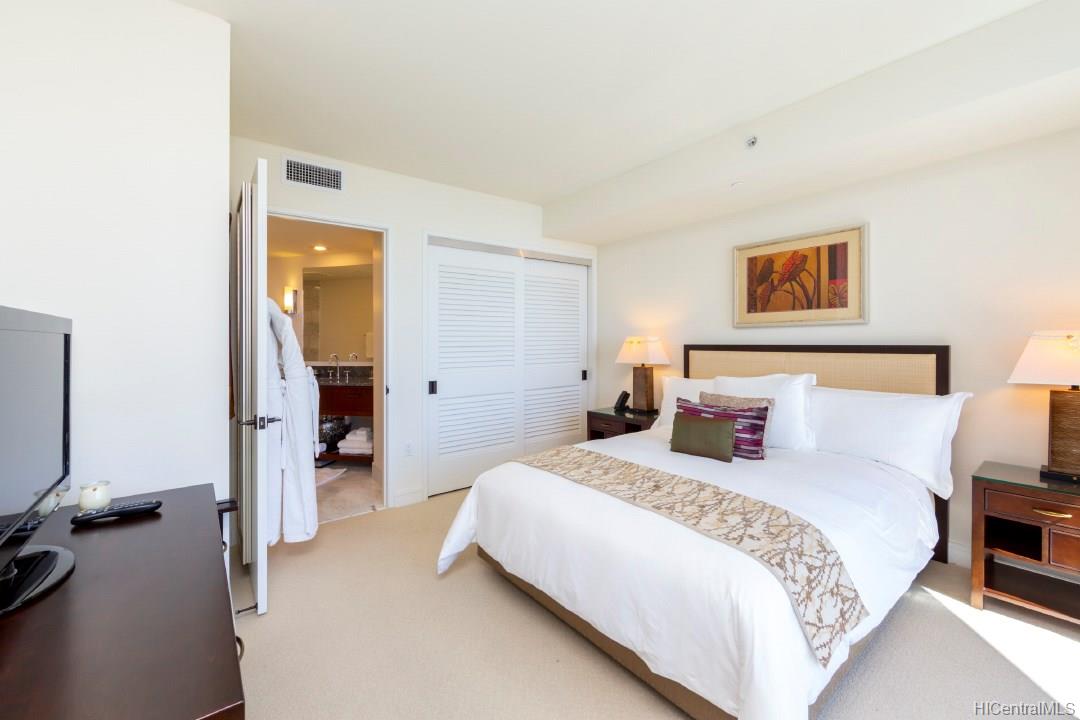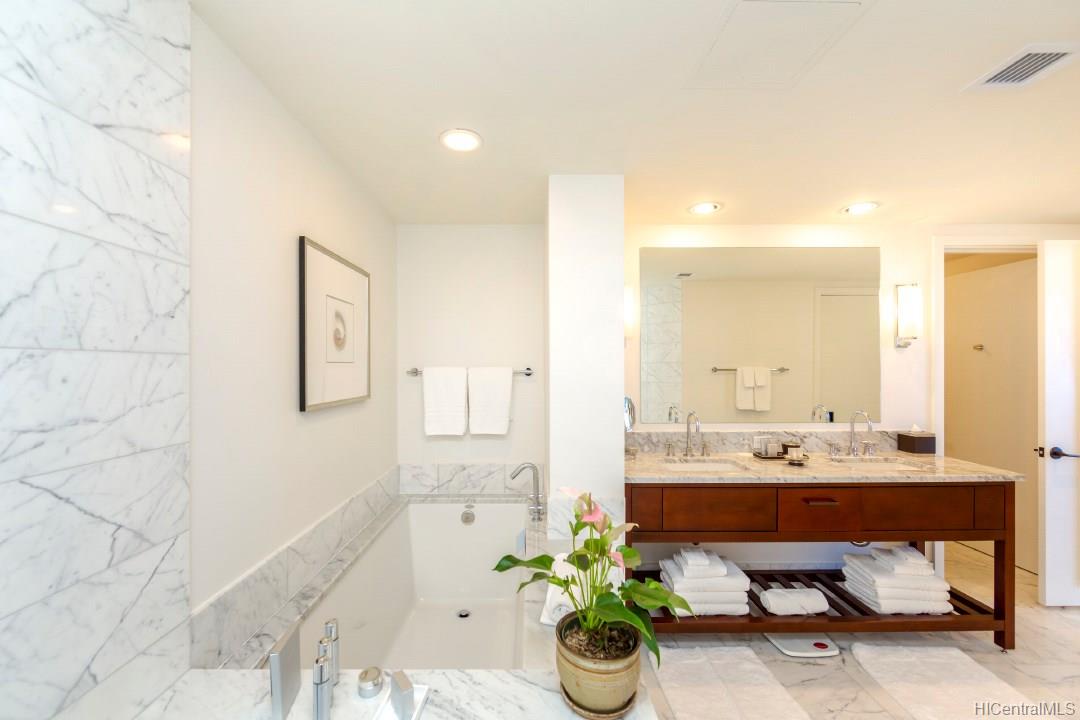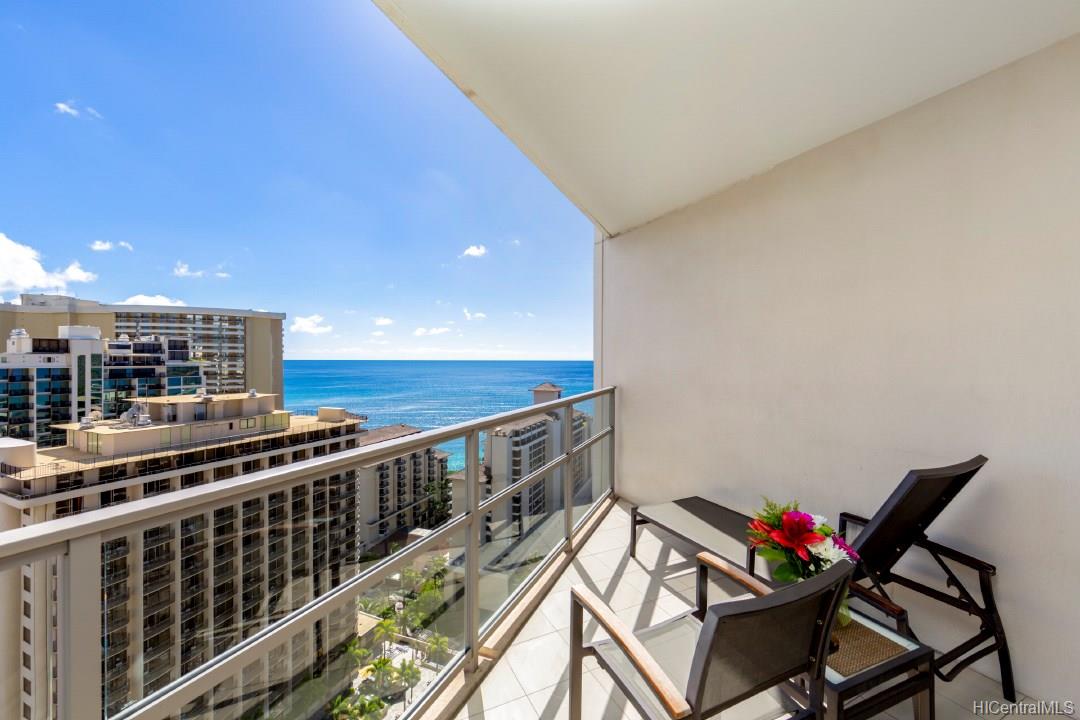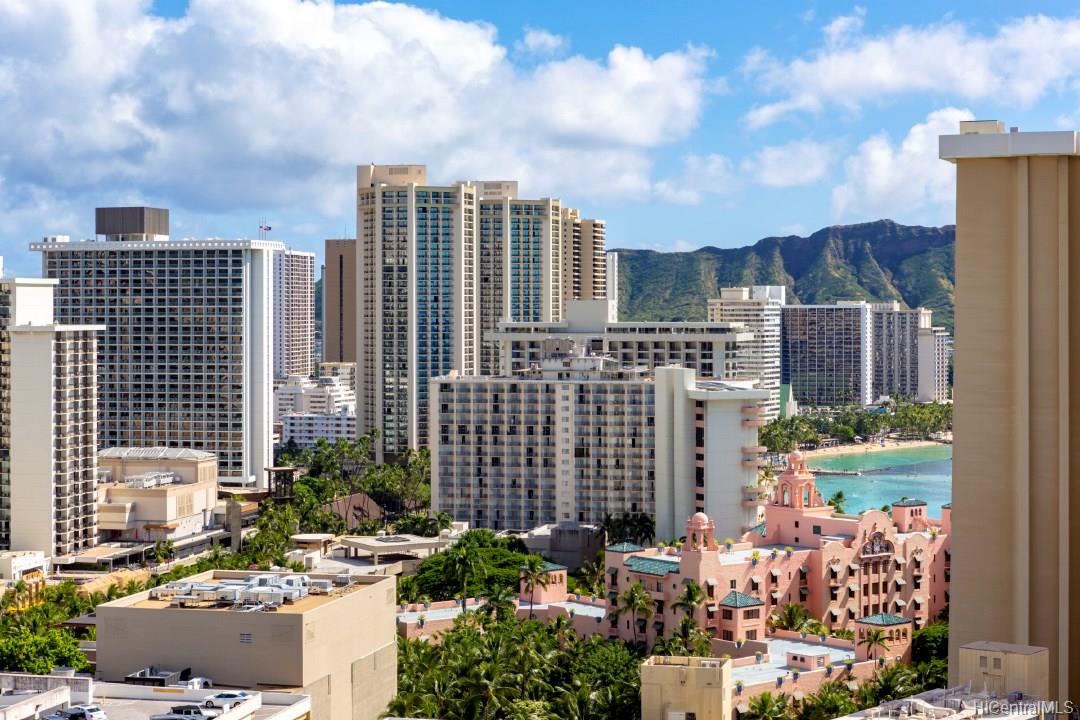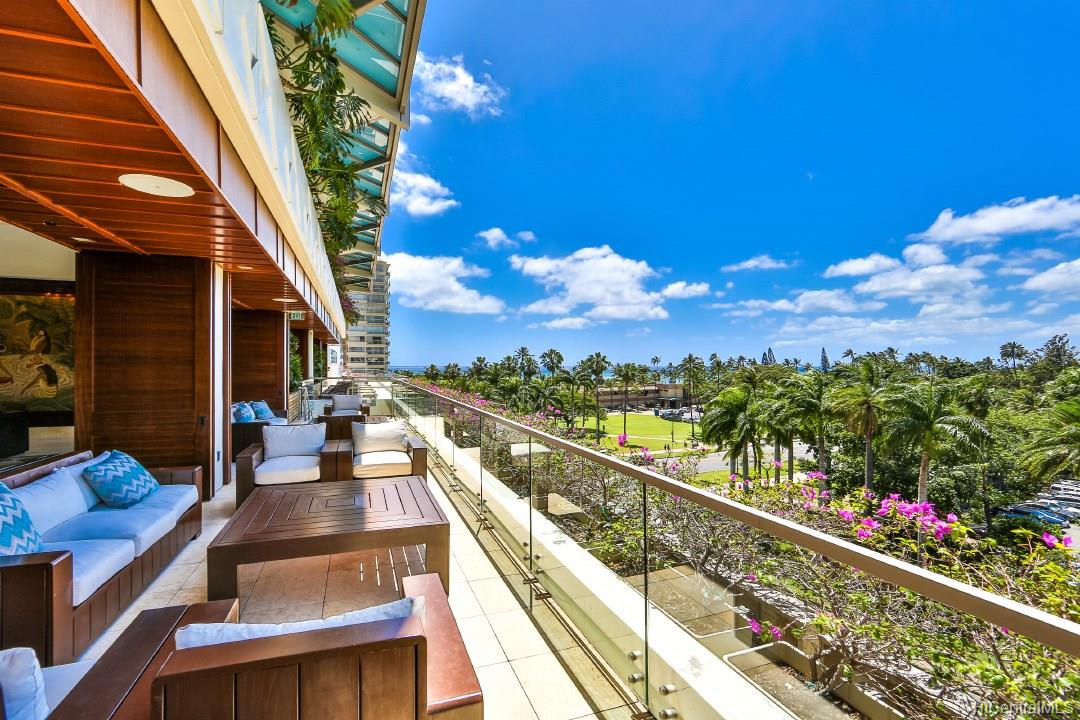 Jet Luxury Resorts is not associated with, sponsored by, or endorsed by any of the branded hotel properties or its affiliates as operator of the hotels and as owners of the hotels or resort properties for which Jet Luxury Resorts offers on their website. Any Rental activity through Jet Luxury Resorts are conducted independent of such parties and the hotel's operation.
Valet Parking @ Resort is $37 daily.
Trump Waikiki Reviews
5 out of 5
by Les F on Expedia
Lovely hotel, staff are superb.
Posted Jun 12, 2018
Pros: Absolutely everything, except the pool.
Cons: The pool size.
Location: Brilliant location close to shops, restaurants and bars.
Lovely location, close to shops and beach, and the beach bag with drink, towels and fruit is a great touch. The staff can't do enough for you. Only downfall is the small pool, yes you are right next to Waikiki beach, but sometimes it's nice to chill by the pool. The whole island is a great place to drive around, were coming back.
The Trump Tower is amazing! As soon as you set foot on the property, the staff start with their startlingly impressive service. My party was greeted by a woman who immediately provided a wheelchair for my 90-year old mother. Each of us were given a beautiful lei made of Hawaiian shells. A staff took us to the lobby to check in and while we were checking in, we were provided cold towels and cold drinks. Check-in took less than 5 minutes. I booked a suite with 2 bedrooms, a living room with a pullout bed and a den with pullout bed with partial ocean view. The room sleeps 8. I got exactly what I booked from Travelocity and more. I thought I reserved a 2 bedroom-2 bathroom suite with partial ocean views. The view in our suite seems more like a full ocean view!... you can see the water from every part of the suite. Both bedrooms have a view of the water and they have ensuite bathrooms. Then, there's another full bathroom (a third bathroom) that's for the use of the guests sleeping in the pullout couches! The fridge is full size, the kitchen have granite countertops, the dinnerware and flatware's were for 18 people, full size dishwasher, and everything is very high end. There's a small, stacked washer and dryer in the third bathroom with laundry detergent and fabric softener. There's even a rice cooker! The Trump Tower thought of everything to make sure that your stay is as comfortable as possible.
—Imelda Nunez
"Can't say enough good things about Richard's place. He's very communicative and his place is pristine. Was one of the highlights of our trip. Thank you for hosting us, Richard. We were really impressed with the place. We hope to stay there again someday. Thanks for also being so communicative."
-Vince
5 out of 5
by Will on Expedia
Waikiki Getaway
Posted Mar 1, 2018
Pros: Service, pool on the 6th floor.
Cons: Beds are low and very hard. We liked the room so much we did not want to switch, but I was told on checkout that they could make the bed softer.
Location: Location is excellent if you like upscale shopping, nightlife, restaurants, or even a food truck court. Beach is only one building away. Primo.
My wife and I were on a one week non-stop vacation from the East Coast and from the initial greeting until the friendly farewell, the staff was excellent. When the lights went out in the bathroom with one bulb flashing out due to an overloaded circuit, maintenance was there within a few minutes to reset the fuse and replace the light. When we were preparing dinner and found we did not have a can opener, a call and a few minutes later we had the implement. We go every other year to Honolulu and stay at different hotels, but this is the best. My wife says next time we should not even search choices!
5 out of 5
by Rach on Wotif
Fantastic Stay in Waikiki
Posted Feb 29, 2018
Pros: Location, staff, spotlessly clean, ample supplies of bathroom products, kitchen with everything you could ask for, rooms regularly serviced. Awesome!
Cons: Maybe the bed turn down service could be a little later as we found it was often whilst we were trying to get ready for dinner out.
Location: Close to upmarket shopping area, restaurants & beach - walk everywhere easily. 10min taxi to Ala Moana shopping mall. Easy to hire vehicle & drive
Highly recommend Trump Hotel as the place to stay in Waikiki. Some other hotels have better locations on the beachfront but cannot compare to the service & facilities at Trump Hotel. All staff were friendly & extremely helpful. Enjoyed not having to walk through shop/mall type of feel within the hotel - simply put it feels like an upmarket residential building. Beach bags with cold water, towels & fruit are a fabulous touch especially not having to sign them out & back in - nice to have trust.
5 out of 5
by Andrew S on Hotels.com
First Stay in Trump
Posted Feb 22, 2018
Really amazing ocean view in our studio and best sunset view at lanai. Only 2 day stay in Trump is toooooooo short for us. The room service is so satisfied. We laid out too many cosmetic products on the basin desk in bathroom and leave in a rush. When we came back, room server cleaned it up and put everything in order with the towel as the base. It's grateful for their careful arrangement. Although the infinity pool is not so large, it likes that it connects the pool and ocean view without edge. The hotel is located near to the shopping centre, DFS, and lots of restaurants. ABC stores, long drugs are 5-10 minutes' walk away. There's a trolley stop just beside the hotel. If you want to enjoy the beach, just walk across the road.
5 out of 5
by Sheryl on Expedia
Very spacious hotel
Posted Dec 4, 2017
Beautiful location. Rooms were big & nice. Staff were friendly & very helpful. Location was awesome. I enjoyed it very much. 5stars indeed
5 out of 5
by Steve on Expedia
Lovely hotel excellent location.
Posted Oct 10, 2017
The suites at the Trump are by far the most spacious, well designed and very Contempo comfortable rooms you'll find on the island. Having a full kitchen certainly provides the added convenience when needed. Wonderful infinity pool. Excellent restaurants. Amazing service.
5 out of 5
by Babyboomer on Wotif
Quality luxury hotel
Posted Aug 16, 2017
Pros: The property is new. Excellent service and fantastic breakfast. On the way back to Sydney we stayed in another hotel but came to Trump for breakfast!
Cons: Can't think of anything.
Location: Two blocks or 5 min walk to the beach. Also 5 min walk to the major shopping/restaurants strip.
We stayed at Trump for 3 nights on the way from Sydney to San Francisco. The hotel ticked all my boxes, probably except for the pool, which was far too small. Beach packs, including a towel, a bottle of water, sunscreen and a piece of fruit are provided on request - very nice and convenient.